As we head into the Fall season here at camp, our team has been working diligently to continue to serve our guests and provide retreats that meet the needs of the local church and individuals throughout the Midwest. We know that many people are craving time away from their homes and we are excited with the opportunity to provide the getaway that many people are seeking.
Here's what our schedule looks like for this Fall!!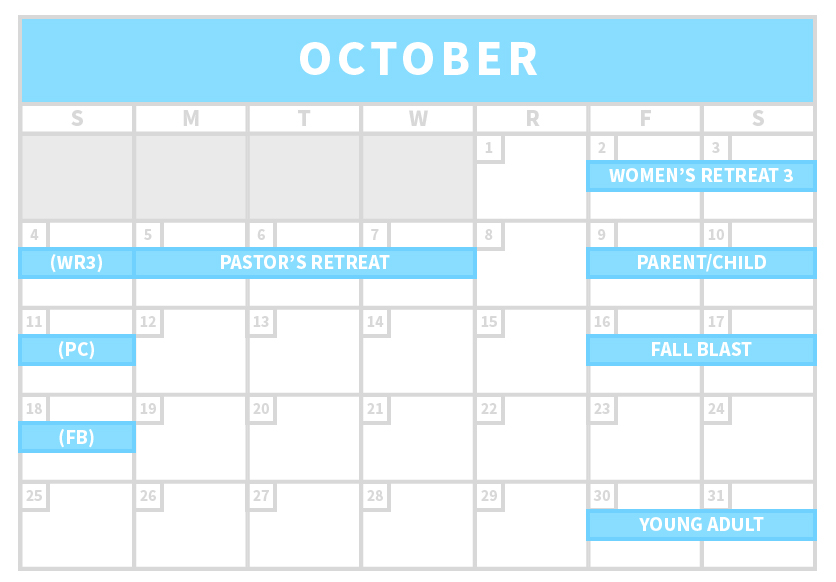 As you can see, we have a pretty packed Fall schedule with programmed events almost every weekend! We are thrilled that we are able to open and serve kids, adults, and families throughout the rest of 2020!
The safety of our guests has been and will continue to be our top priority as we head into the Fall season. We have implemented procedures to help mitigate any risks and continue to provide a safe environment for those who come onto our campus.
Will Camp Be Different This Fall?
We have received many questions about what camp will look like as we head into the Fall. To our joy, we are still able to do many of the things that our guests love, like the zipline, high ropes course, archery, BB guns, and more! Some things will look a little different (holding chapels outside, requiring masks when getting your food at meals, and less indoor activities), but we think it is worth doing some things a little different in order to keep our doors open and provide retreats for our guests.
No Risk Policy
Due to the uncertainty of the what the state will mandate and recommend regarding COVID-19, all of our events will have a No Risk Policy. This means that if cancellations need to be made because of the current health crisis, you will receive a 100% refund. There is no risk of losing your deposit if camp would need to cancel or you were unable to attend because of COVID-19.
SUPPORT CAMP THIS FALL!
By coming to one of our Fall events this year you will help us end this year well!