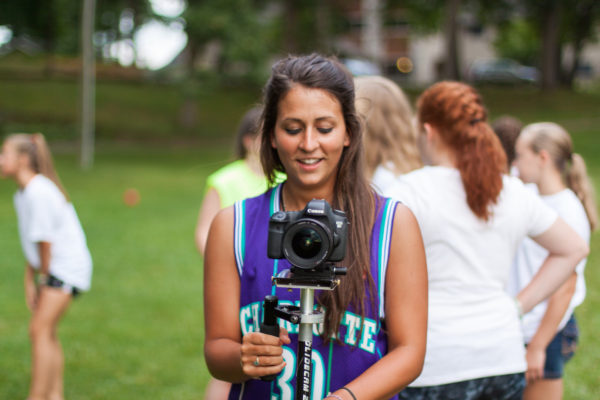 My name is Maddie Short, and I am a senior at Indiana Wesleyan University. I have grown up going to camp since second grade and been apart of the camp aide program. The past three summers I have taken the role of assistant counselor and lifeguard, waterfront director, and videographer!
I almost think it might be easier for me to write about what summer camp HASN'T taught me, because I have really learned that much from my experiences.
Equating the experience of a summer at camp to a couple paragraphs is like trying to describe a color. You can't formulate a sentence that fully gives an idea of what it looks like, without seeing it firsthand. Thus, camp is truly something that you have to experience in order to fully understand it.
When you work at Miracle Camp you choose to work for an organization that truly lives out their mission statement every day. You work with a group of people who plan their entire summer around that mission statement, and stick to it. Working here has taught me more about living life, and helped me gain a multitude of skills.
The motivation that one has to work at camp may be different from another. Personally, my inspiration came from the fact that I have gone to camp my entire life. To this day, there are certain counselors and assistant counselors that I still look up to. It might have only been one thing they said or did during my week at camp, but somehow it stuck with me until now. I remember each of my counselors and the summers that they gave me. I remember the way they loved the Lord and how they encouraged me to pursue my own relationship with the Lord. After having worked at camp for three summers, campers' have reached out and contacted me directly outside of camp. They share small, simple stories or words of encouragement regarding what they learned at camp, and how it impacted them years later. It is these small reminders from campers that make the time invested all worth it. 
So that's the inspiration behind it, now what did I learn from all my experiences and how did I grow? Well, first and foremost, I gained an understanding of selflessness. I didn't fully understand this concept until I started working at camp. Camp taught me what it means to lay down the "rights" I think I deserve, and instead put the consideration of others first. Honestly, when I work at camp, I don't really have a choice to be selfish. It's almost is a natural way to teach myself how to serve others in the way God calls me to, with a humble heart and with the desire to serve those around me.
The list of practical and intangible skills could go on and on. I have developed better communication and relational skills with campers, parents, staff members, and superiors. Without effective communication, camp could not run. So, clear and concise communication is practiced throughout the entirety of the summer. One of the greatest takeaways I've gained is the ability to creatively think. Creative thinking happens in all different forms: group collaboration, self-initiative, when in a time constraint, or during planning sessions throughout the start of the summer. Nonetheless, creative programming is one of camp's values, so it has been instilled in my blood since I have started working there. There have been many times where we had something planned, and due to weather or another circumstance, we had about 15 minutes to come up with a new plan for 200 campers. Surprisingly, situations like this were more frequent than the staff hoped, but looking back, these were some of my favorite times. Honestly, some of the best games were developed through situations when we were under pressure! There are so many opportunities at camp that allow for creativity within group collaboration.
One of the greatest blessings from working at camp results in the immense growth that takes place within. The entire summer is centered around Christ, so it gives the unique opportunity of practicing putting Christ at the center of all we do. I learned how to rely not on my own strength, but to rely on him through times when I was tired from a crazy week. There are so many opportunities to grow spiritually. I found myself growing the most through the set aside time for personal devotions, as well as the opportunity to listen to many different speakers presenting the gospel to the kids each week! There was always someone on staff who was willing to talk or listen, and grow alongside of me. Because the foundation of these friendships rests on the truth of Christ, I have formed some my best friendships through camp.
Aside from the intangible skills, I have also learned practical "camp" skills. You name it: ziplining, paintballing, outdoor games, campfire building, beach preparation, boat care, driving tubers, dodgeball, and essentially, turning anything into a game. In my role as the videographer, I stepped into it with zero knowledge. Up until the month before coming to camp, I had essentially never picked up a camera. Nonetheless, I knew my staff would support me in this role and it was a skillset I was excited to learn. It took a lot of research, time, and dedication, but because of camp, I learned video skills that I can use outside of camp, and are now contributing to my future today.
To wrap all of this up: I work at camp because I love the campers. I love that my creativity, confidence, and faith has been developed. And I love the relationships with staff members that I have developed. I work at camp because the Lord has given me the ability and opportunity to bless others by working for him through this ministry.
A summer at camp isn't just a period of time in your life, rather it becomes a part of who you are and helps shape who you become. Words limit the fullness of my own personal camp experience, so I encourage you to experience it yourself and see what I have tried to describe. My greatest advice to anyone interested in working on summer staff? Apply now.
Click here to apply for this year's summer staff!
Check out one of Maddie's videos from this summer!