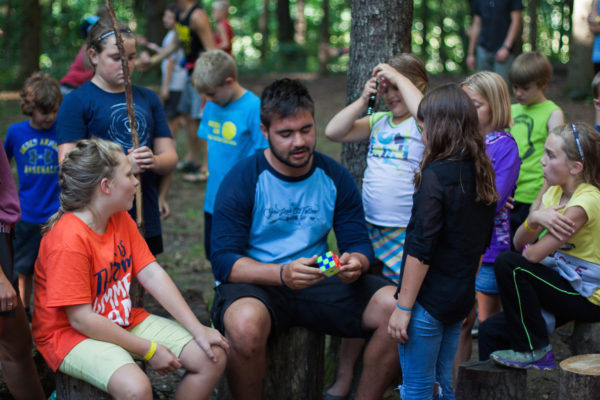 Hey! My name is Rob Haworth. I am a recent graduate of Olivet Nazarene University in Illinois and I am currently a youth pastor in Omaha, Nebraska. During my years at Olivet, I spent three summers at Miracle Camp (two as a Counselor, one as Head Male Counselor). I still cherish the relationships I built there and count those as some of the most incredible, God-filled times of my life. In the next few paragraphs, I'll try to describe just what Miracle Camp means to me. It's an impossible task, really. Try fitting Miracle Camp's one and only Bankson Lake into a water bottle and you'll know the struggle; but, as many before me have done, I will try my best to do justice to this amazing place.
The word that comes to mind when I think of camp is "impact." In almost every testimonial, from staffers and campers alike, the word is everywhere. Miracle Camp's own mission statement is completely focused on "facilitating life change." That impact is reflected by the vast majority of summer staff that work at camp because they've spent their lives there. The counselors they've had, the friendships they've made, the messages they've heard: it all contributes to a deep desire to invest in that same kind of change in the lives of students. The memories they have and the culture in which they've grown up motivate them to serve. I love those stories. But that is not my story.
I was 18 years old, a freshman at Olivet, and I had no clue there was a place called Miracle Camp. I met a guy on my floor, now a good friend of mine, who had worked there before. He talked about it so much, almost like it was a dream. I know what he was feeling now, but back then it kind of freaked me out! He ended up showing me the staff video and, although it looked different than anything I had ever experienced before, it also seemed like a ton of fun. With Christmas break over and the summer looming on the horizon, my search for a job intensified. I knew God was calling me to work with youth, but I didn't know where. Finally I submitted my application and, long story short, I got the job. I was a counselor at this mystery Christian camp in Michigan.
Staff training arrives and I pull up to camp. The grounds were beautiful and it was all very impressive, but the staff was what blew me away. Immediately I was accepted. I was supported, cared for, and taken into the family. As staff training went on, I began to learn more about what Miracle Camp does, the mission behind it, and the goals it seeks to achieve. Every week during my first two summers as a counselor, I was able to touch the lives of campers and learned more about what Miracle Camp is. Every single day this last summer as head male counselor that I tried to lay down my rights, comfort, and time for the staff so that they could show love painted a clearer picture of camp's purpose.
The main way camp helped me grow was that it brought 1 John 3:16 to life. I thought I understood the verse, which reads, "This is how we know what love is: Jesus Christ laid down his life for us. And we ought to lay down our lives for our brothers and sisters," before I worked at camp. Looking back, I had no idea what it meant, but I quickly grew in my understanding, prompted by a mental, physical, and emotional exhaustion that brought me to the end of myself. Even now, as I continue striving to look more like Christ , I view that lesson as one of the most valuable that I have ever learned.
Sitting here racking my brain for the words to express everything camp that is into a neat concluding paragraph, I understand that this is an impossible task. I can't think of words or phrases to sum it up. This isn't writer's block, though. My mind is anything but blank. The issue is that when I think of camp, I don't think of words; I see faces. The people serving next to me all summer; the campers having a blast in a game or experiencing God in a chapel service; the laughter, the exhaustion, the tears: they all come flooding back bringing with them memories that perfectly describe what Miracle Camp is. What make Miracle Camp special are the people. It's a staff united by one faith, energized by one Spirit, striving towards one mission. It's God working through His servants to bring joy, show love, and build His Kingdom. That's what Miracle Camp is. That's Bankson in a bottle.
Check out this video from my first summer at camp to see a tiny glimpse of some of the things that I've experienced here at Miracle Camp and Retreat Center.