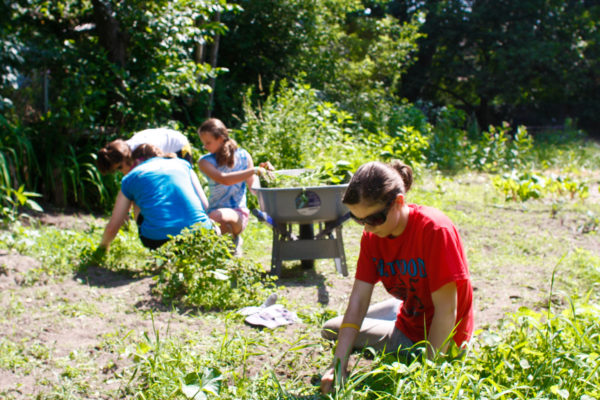 Shake-Up Kalamazoo is a youth group service program committed to teaching Jr. High and High School students the value of living a Christ-like life.  Students who attend Shake-Up Kalamazoo will have the opportunity to serve and share their faith in Kalamazoo, MI.  You and your church youth group will spend time during the day serving and volunteering in Kalamazoo. Here is a glimpse of one of the places students will serving at this year.
Kalamazoo Gospel Mission
The Kalamazoo Gospel Mission (KGM) is a site that we have partnered with every year since we started our Shake-Up program 6 years ago.  They have the largest facilities of any organization that we partner with and are most equipped to handle large quantities of volunteers.  You could volunteer all four days here and the kids could potentially do something different each day because of the variety of work options that they have.  They rely upon hundreds of volunteers hours every week in order to run everything that they do.
KGM is a shelter for homeless people.  They have both an overnight program with shelters that house hundreds of people each night and a long-term rehab program in which people stay in more dorm style housing and regularly attend classes.  The classes they use include practical work skills & education, financial awareness & responsibility classes, and Bible classes.  Part of their long-term program also includes them volunteering a certain number of hours per week in the same spaces that our groups volunteer.  In addition to their shelters, they also run a kitchen which serves meals during every meal time, have a store that runs just like a Goodwill, and have an auto repair/sales place in which they receive donated cars to sell for cheap and train some of their long-term members on skills working with car maintenance.
KGM offers several different types of work that can be rotated through each day.  The main areas that people would be divided into are the store, the kitchen, cleaning in the shelters, and maintenance.  The store involves anything from organizing incoming donations in the warehouse, to moving items from the warehouse to the store and setting them up on shelves, to mopping the floors and cleaning the shelves that the items are stored on. The kitchen can include organizing incoming donations (they arrive daily in truckloads because of the amount of food they serve at every meal), sorting through stored food to throw out anything that has expired, helping clean the dining area, and helping serve lunch to people (this depends on how many other volunteers are working in the kitchen area).  
For more information on what Shake-Up is or how you can get involved, head to https://www.miraclecamp.com/shakeup/!