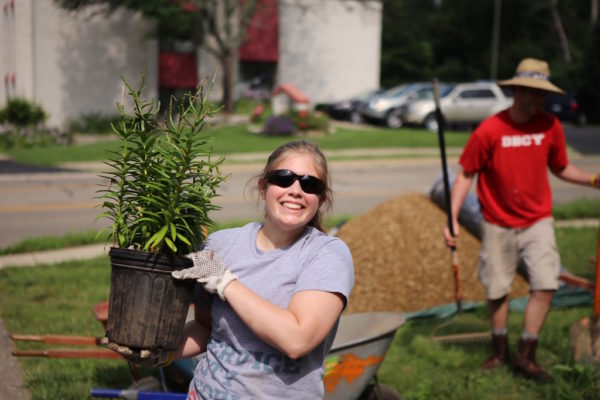 Shake-Up Kalamazoo is a service-based program for youth groups during the summer that Miracle Camp runs alongside of its Summer Camp program. The purpose of Shake-Up is to provide an opportunity for middle school and high school youth group to serve together as a group and make an impact in the community by partnering with an inner city Kalamazoo organization for 4 days of service. Shake-Up is where the biblical focus of Miracle Camp, the creative fun of summer camp, and the life-changing experiences of a domestic mission trip all come together in one.
Biblical Focus of Miracle Camp: Miracle camp strives to focus everything around Scripture. What does the Bible say, what does it tell us to do, and how do we live that out? Each evening we will have a chapel session with worship and biblical teaching from a speaker. It is during these evening sessions that we will be built up through worship and an understanding through Scripture of our calling to serve so that we can go out the next morning and put it into action.
Creative Fun of Summer Camp: Spend your evenings together as a group enjoying the various activities that Miracle Camp's wonderful summers have to offer. The activities that you will get to experience during your week of Shake-Up include Zipline, Tubing, High Ropes, Dodgeball, Paintball (New 2017), Waterfront, and more!
Impactful Mission Trip Experience: One of the greatest things about mission trips is that in our efforts to help others out, we ourselves are often impacted just as much as they are. Whether it is building character through the hard work of cleaning, learning the importance of attention to detail while painting, or realizing how thankful we should be when we see the living situations of those less fortunate than us, your week of serving will be a sure fire way for your group to put humility into practice and be challenged to do things that they wouldn't have to do in their day to day lives.
For more information on Shake-Up, visit https://www.miraclecamp.com/shakeup/