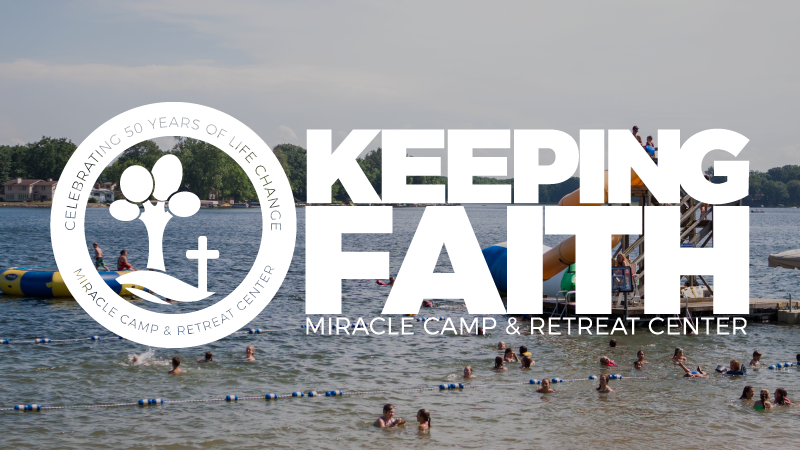 The Keeping Faith Campaign began, and continues to be, a vision for ministry here at Miracle Camp and Retreat Center. It celebrates how faithful God has been over the past 50 years of ministry, while also looking ahead to the next 50 years and beyond. This campaign has focused on three opportunities to continue sharing Christ with more and more people every year: ensuring safety, adding capacity, and being good stewards.
Ensuring Safety: Safety is our number one priority. Whether guests are at the waterfront or going down the zip line, we make sure they are secure with safe equipment and trained staff. One of the additions to camp that we have been most excited for through the Keeping Faith Campaign is the addition of the tunnel, which has allowed hundreds of kids, families, and guests to cross the road safely. We have been so grateful that we were able to begin the Keeping Faith Campaign with the addition of the tunnel and continue to provide a safe place for those who are on our campus.
Adding Capacity: Each year, we have to turn guests away due to lack of space. We want to be able serve as many people as possible and not have to turn anyone away who desires to experience life-change. The Evergreen Project is one of the ways that we are looking to increase the number of guests we can have on campus. As you may have seen, we are thrilled by all of your support to completely fund the Evergreen Project. We are already under way with this renovation and are eagerly awaiting the arrival of spring so construction can continue!
Being Stewards: We believe in excellence here at Miracle Camp. This does not always mean building new facilities every year. It can also mean taking responsibility to care for and improve the facilities we already have and, therefore, being good stewards of the many things God has blessed us with. This is one place that we are excited to be heading in the future. Throughout the next few years, we are hoping to update and remodel many of the buildings and facilities we have around campus. We desire to pour into and care for the guests that come to camp and we want nothing to distract from their experience here. With your support we can continue to improve camp and be good stewards of the resources the Lord has blessed us with.
THANK YOU!
Again, we want to thank you for all of your support of camp throughout the Keeping Faith Campaign so far. We look forward to your continued prayers and financial support as we look ahead to the future of Miracle Camp!
Want To Get Involved?
We would be thrilled to have you join us in our mission to serve the local church and see the message of Jesus preached to thousands every year! We would love you to prayerfully consider supporting camp with a financial gift and prayer. If you would like to donate to the Keeping Faith Campaign, click here!