The year isn't over yet and Christmas lights are still hanging!  If you haven't had a chance to donate to our Christmas catalog, please take a minute to look it over now.  You'll be just in time to make our Christmas and for the end of the year donations!
Visit www.miraclecamp.com/christmas to donate now!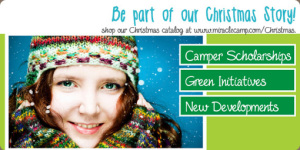 All donations benefit Miracle Camp and Retreat Center, a non-profit Christian camp in Michigan.  We serve churches, families, and youth across the midwest in Illinois, Indiana, Ohio and Michigan.  Events include year round retreats, church retreats, youth retreats, and Christian summer camps.