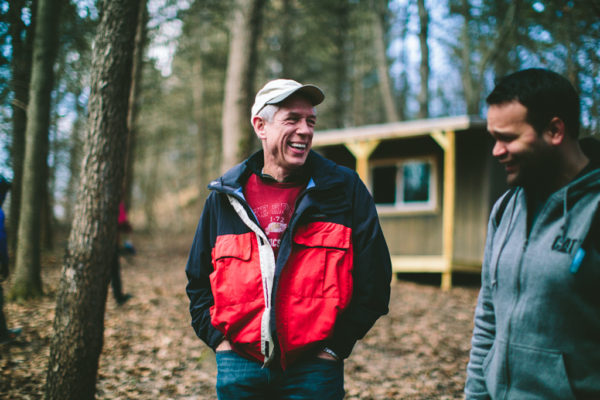 As the first weekend of our Man Camp season is just a week away, we wanted to take the time to reflect upon how God worked last year at our Man Camp weekends.  The following story is from Nate Hamblin, who is a church planter in Adrian, Michigan.  Nate, who has been in Adrian for just over a year now, describes his experience of bringing a group of guys from a local ministry to a weekend of Man Camp last year:
As a pastor, and one in the process of planting a church, I am personally thankful for the lengths Miracle Camp goes to make all feel welcome.  Regardless of background or where people are at in relation to Christ, MC knows the power of genuine hospitality.  
Last year at man camp, we had the privilege of bringing a small group of men from a local men's mission enrolled in a year long addiction recovery program.  While excited, these men were NERVOUS coming to man camp.  Having more experience in drug houses and jail cells than church services, they had no idea what to expect.  And on the way to camp, it was clear they feared the worst.  One man in his late 20's in particular, let's call him "Joe", asked me a question less than 10 minutes into his trip.  "Pastor Nate, are there going to be guys like us at this thing?"  "Sure, what do you mean.  There will be all kinds of guys up there," I said.  "No you know what I mean…like US?"  (Men who've hit bottom and struggled with drugs & alcohol their whole lives.)   "Joe," I said. "You'll be fine and no one will think any different of you."   
And that's what I love about Miracle Camp. I could speak that to Joe without doubt or hesitation.  I knew he would experience the welcome and embrace of Christ without judgment or being singled out.   Sure enough, the Lord used that weekend to remind Joe and every man with us, that He has created them to be men.  Men who enjoy Him and his creation without the need for any substance to compliment the experience.
And on the way home, as the guys were reminiscing and sharing stories, I interrupted.  "Hey Joe!  Were there any guys like you up at Man Camp?"  "Yeah Nate, I'd say they were all like us." 
It is stories like this that keep us motivated in doing what we do at Miracle Camp.  With still more registrations to come in, we are already over 700 men who are registered across our four spring Man Camps who will be coming to experience a weekend just like Nate and his group did last year.
If you would like to register for one of this year's Man Camps, visit www.miraclecamp.com/mancamp!