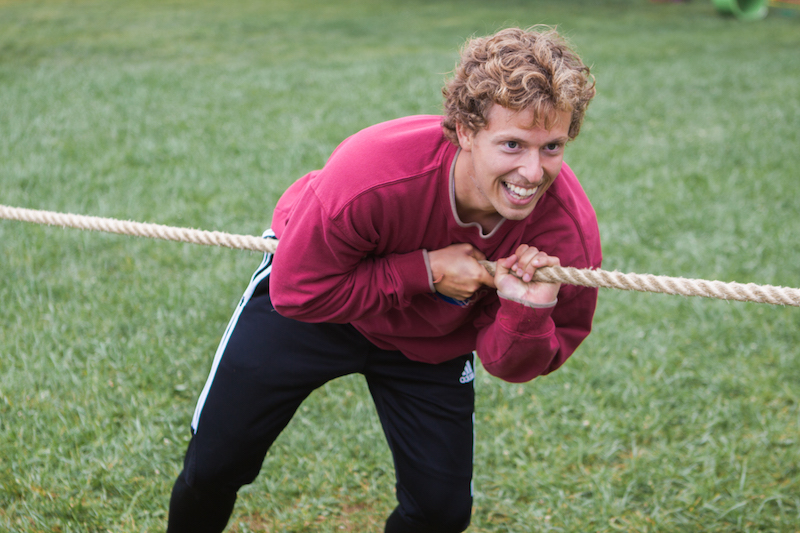 I still remember the first time I got the call telling me I was going to be a counselor at Miracle Camp.  Sitting in my dorm lobby at college, playing a game with some friends, I stepped out to answer the phone.  When I came back, I was beaming.  I couldn't wait to tell all my college friends how excited I was.  Being primarily from the East Coast, none of them knew Camp, so they didn't quite get it.  But it didn't matter.  I was ecstatic.  And it was only the beginning.
Looking back at the three summers I spent on summer staff, I couldn't be more thankful for my experiences.  God used each moment at camp to teach me, grow me, and mold me more into His image.  During my first summer as a counselor, God taught me about his provision.  He showed me time and time again that my own strength, love, spiritual insight, or sleep schedule didn't have to be enough – as they almost never were!  Each day brought new challenges, and in each new challenge, God showed me another way He is all-sufficient.  I would encourage anyone who wants to see God break down walls and change lives to spend even one day at camp.  You can't miss it.
After my first summer, I wasn't sure if I'd be able to go back.  I wanted to more than anything, but as an engineering student, I was facing certain expectations for internships and research experiences – especially with my goal of pursing a graduate degree.  That, along with family circumstances, kept me at home the next summer.  But if I learned anything in my first summer, it was that God is not limited by something like internship requirements.  Looking back, I can clearly see the path the Lord laid out before me.  In His timing, internships happened, research opportunities arose at school, and I was able to meet all of my requirements, and still have not one, but two more opportunities to serve at Miracle Camp for the summer.  God was teaching me to rely on Him even in the process of getting back to camp.
My next two summers were spent in leadership roles, and God used the opportunity to teach me something very different.  As a leader, God gave me a chance to pour into the lives of other staff members and provide the same mentoring that had such an impact on me my first summer.  God also used this time to challenge me to seek nothing before Him and help others do the same.  Because God called me back to camp, I was able to share with kids and staff about His goodness as I walked with my family though some dark valleys.  Praise God for His faithfulness and grand design.  I am encouraged whenever I look back and see how obvious His hands are in every experience I have had at Camp.
Working at Miracle Camp has left me forever changed.  God used my time serving on staff to challenge me, to provide the spiritual nourishment I needed most, and provide me with lifelong mentors and friends, and I couldn't be more thankful.  Looking back, it's easy to forget all of the frustrating moments, the annoying bug bites, and the late nights.  What stick out most are all the moments when God did far more than all I could ask or imagine.  And those make all the difference.
If you would like more information on working on summer staff, head to www.miraclecamp.com/summeremployment!