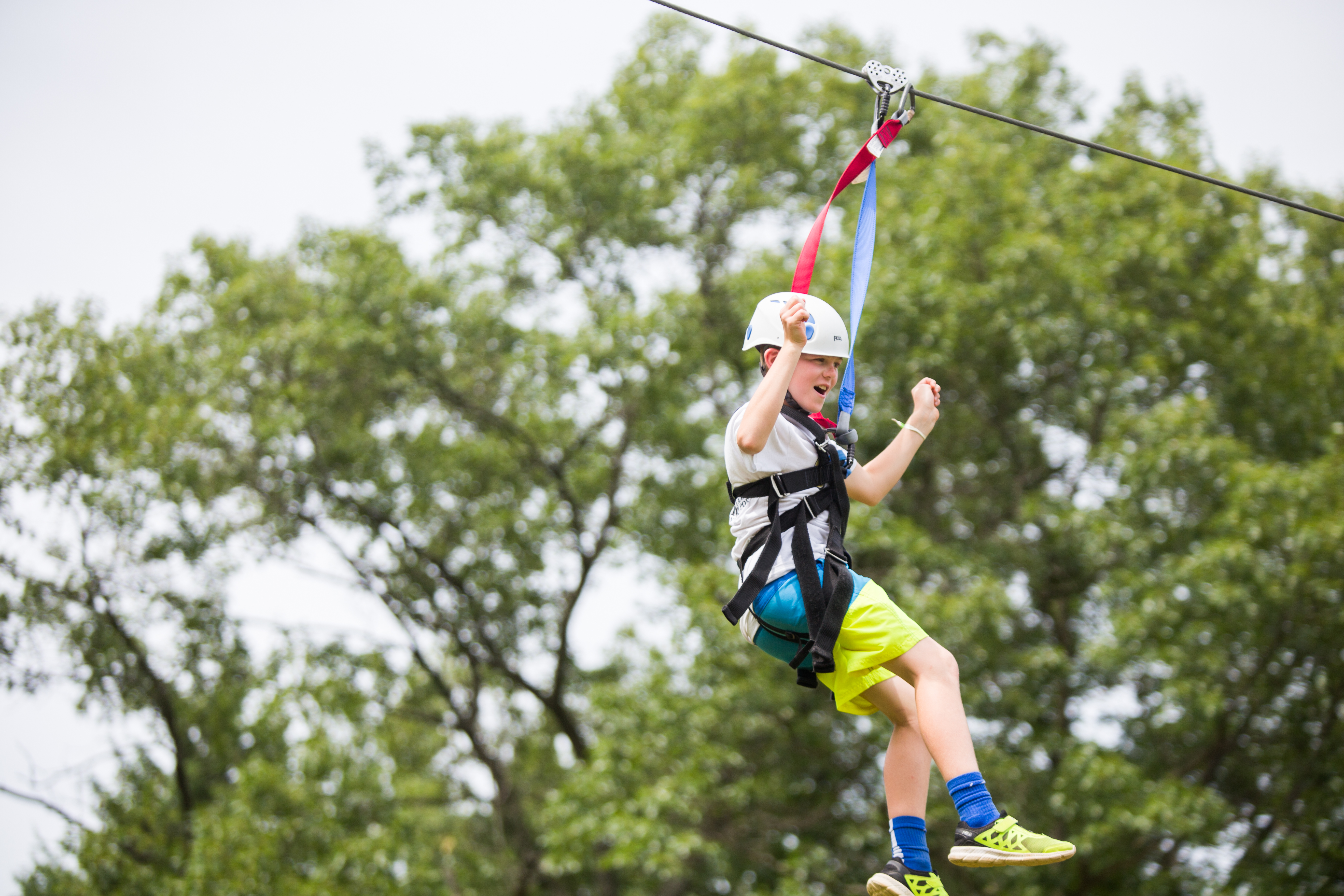 The cable wobbles as you steady yourself, clinging for dear life to the rope hanging above you. "It didn't look as high up from the ground," you think to yourself as you try to not look down. Your friends at the end loudly cheer you on, breaking fear's paralyzing hold as you inch along the obstacle. One…more…step…and you breathe a sigh of relief when your feet reach the edge of the platform. Exhilarated, you move on to the next obstacle, pushing your fear to the side once again.
Fear. It's a universal human trait. Regardless of different walks of life, skills, abilities, etc., fear of some sort plays a part in each person's life. The theme of fear is woven all throughout Scripture, with "do not fear" occurring as one of the most common exhortations found in the Bible.
At Miracle Camp, our Activities ministry is purposefully designed to help guests face and overcome their fear. There's no better way to work out our salvation "with fear and trembling" than in high pressure situations such as crossing high rope obstacles 40 feet in the air. The great amount of trust required to take that initial step off the zipline parallels the bigger picture of letting go of the fear that holds us back from trusting God.
For some, the adventure activities are a thrill or simply an enjoyable interest. They cross the obstacles with ease and a healthy fear as they glide off the zipline tower. What allows them to do this is the knowledge that they are safe and secure with proper instructions and equipment. For others, these challenges can seem like insurmountable endeavors. A first-time zipliner may stand at the top, more consumed by fear the longer he or she hesitates, sometimes talking themselves out of the adventure. "If only they knew how much fun it is!" or "if they just step off, they will realize how safe they are!" others plead as they encourage the nervous one.
How often are we this same way about trusting God in life situations? Sometimes we are the person at the top of the zipline, questioning God, "are you sure this next step is safe? Can I trust that You will catch me?" Instead of living in fear of life circumstances, what would it look like to only have a fear of the Lord? Maybe God is calling you to a new place or career. Maybe He is asking you to have courage to live fully right where He has you. Maybe He wants you to forgive that person or let go of whatever it is you're holding to so tightly. Proverbs 1:7 says that "The fear of the Lord is the beginning of knowledge…" When we replace our earthly fear with a reverent fear of God, we begin stepping out in trust, implementing the lessons learned at camp into daily life.
The well-known Bible verse, Proverbs 3:5, declares, "Trust in the Lord with all your heart and lean not on your own understanding." Just as a person cannot half-heartedly decide to zipline or cross a rope obstacle, trusting God requires our full heart as we plunge into following Him. There is such reward seeing a guest's face turn to joy after completing the challenge in which they were so afraid. And we will find an immense reward waiting for us, too, when we choose to trust God.
Whether it's high ropes and zipline adventures, or rock wall and our team-building initiatives, here at Miracle Camp we love creating experiences for guests to face their fears and trust God in a deeper way before heading home, and then to hopefully carry this out in every aspect of life.
For more information about Miracle Camp and the activities we offer, click the button below!