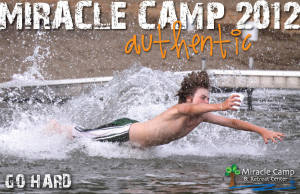 Summer Camp is coming quickly!  It's almost the new year which means that registration is just around the corner.  Here's some things you should look forward to this summer…
The "Authentic" Theme – we think it's important that each of us has authentic faith.  We're going to explore what it means to be for real and genuine in what we believe.
Pick your price – No, you can't totally name the exact price you want to pay (obviously you'd like camp to be free), but we are giving you 3 options to pick from.  Visitmiraclecamp.com/pickyourprice for more information.
New parent registration portal – we hired a new software company this year and they are providing us with a GREAT parent portal.  You can see all your campers registrations, send camper email, view camper photos and make payments on a balance.  It will be much easier and simpler…plus it will save your information for future years so that you can register in a couple clicks!  Oh…did we mention there's an iPhone and Android app???
Of course…there's so much more I could tell you about.  We're always going to have the best summer counseling staff of any camp in the nation!  We work hard to make that happen.  So…we're excited about summer camp and we hope you are too!