God's Continued Faithfulness
I once heard it said that there are two ways to study history: as a scholar or as a soldier. Scholars look at what people used to do, while soldiers see what remains to be done. Those who are scholars study history to gain information or knowledge; those who are soldiers study it for the sake of mission.
I have come to the conclusion that, as Christians, our job is to approach life as both a scholar and a soldier. We praise God for His past faithfulness while allowing the knowledge of His faithfulness to drive us as we take part in the most important mission in the history of the world.
This directive is derived from Acts 1 and Matthew 28.
In Acts 1 the author says he recorded for us "all that Jesus began to do and to teach."
The keywords here are "do" and "teach", referring to Jesus' works and his words. In the book of Luke, Jesus fed the hungry, gave sight to the blind, played with children and showed kindness and compassion to the less fortunate. But he also said, "I am God," "I am Savior," "I am Creator," "I am the Judge of the living and the dead," and "I am the way, the truth, and the life, and no one comes to the Father but by me." At Miracle Camp, we work to be very unapologetic about Jesus, preaching what Jesus said and did, and preaching the Truths found in scripture.
Matthew 28 speaks to the resurrection and validates, proves, and upholds the life and ministry of Jesus.
In this chapter Jesus takes it one step further and tells His disciples to go make disciples. They are given the authority to lead the church, and here, in His last words, Jesus confirms His Kingship and tells the leaders of the Church to begin the work of the great commission, and to do this work on His behalf. He is giving them authority and power to accomplish the spiritual work.
It is worth noting that this authority does not give His disciples the power to take land with the sword. The authority he provided is much more complicated. It is to go into the world and connect to people's hearts so that people are prepared to listen to Jesus; that they would be moved from the inside out.
Those two points sum up everything we do.
Our hope and prayer is that our camp and retreat programs and our facilities are not for our benefit.
They are built to assist the local church to do the work of the local church. We first want to help the local church accomplish its goals and disciple its people. We want to help the ministry of the local church bond its people together around Jesus. Our prayer is that our facilities are utilized to develop relationships and facilitate discipleship so that, as Iron sharpens Iron, individuals in the local church can live life together and spur each other on in love.
As I look back at this year, the thing that sticks out to me the most is how faithful God has been. He has provided staff when we were short handed. He provided financially and organizationally – unifying the staff to implement a contingency fund, restructuring of the organization, updated policy to meet today's changing world, and developed a healthy, conservative budget to bring camp back to a solid financial position. Most importantly, God has provided his Spirit. We continually hear stories of His faithfulness; individuals crossing the line of faith, families being strengthened, individuals recommitting their lives to Christ, and marriages being transformed.
He has provided Miracle Camp with guests. Throughout the entire year, we served a total of 13,188 people, representing 32,906 camper days. Of those people served, 6,652 were from Miracle Camp's programmed events and 6,536 were from guest groups programming their own events. We praise God for His continued faithfulness; not just in growing numbers, but in continuing to change the lives of each person who attends Miracle Camp.
This year (2015 and 2016) we served the following numbers of people in our main programs:
The highlight of this past year was our 50th Anniversary. Throughout the past 50 years, there have been countless staff members, donors, and volunteers who have made Miracle Camp what it is today. Miracle Camp's impact was not the result of one person, but the result of many many people working together. We are, first and foremost, your camp.
Our 50th birthday party also kicked off a capital improvement project. This campaign is geared toward increasing capacity, safety, flexibility for the events held on our campus. The campaign also intends to create reserves that will allow us to maintain the beauty and facilities we have been entrusted with. This includes items like building staff housing (so we have staff available to better serve our guests), adding a number of new meeting spaces, updating and fixing the gym, remodeling and/or rebuilding a number of the the cabins, beautifying our campus, and purchasing additional land for our programed events.
We recently finished a tunnel project to provide safety for campers crossing 80th Avenue during their camp weeks. This project was designed, built, and managed entirely by volunteers! Again, God has provided. We are also working toward building a new meeting space and renovating Evergreen this fall. This project will allow us to host more groups and better serve the groups we are given the opportunity to host.
If you haven't already seen the stories of Keeping Faith, be sure to visit our website at miraclecamp.com/keepingfaith. It is incredible to hear the stories of how God has used Miracle Camp through the years.
Finally, below is a summary of our 2016 financial report. We are always striving to be good stewards of what God has given us and what you pay for fees to attend events.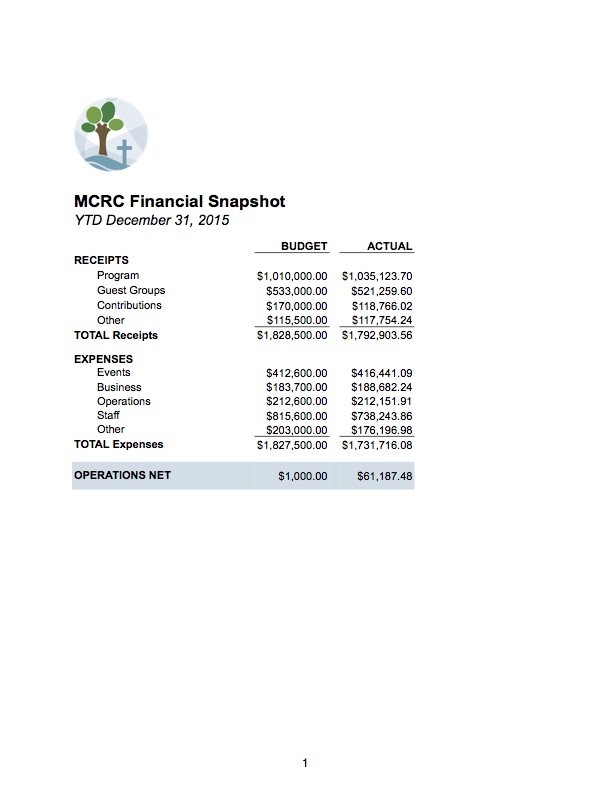 Thank you for your continued prayers and support!
Respectfully submitted,

Jonathan L. Hyde, Executive Director