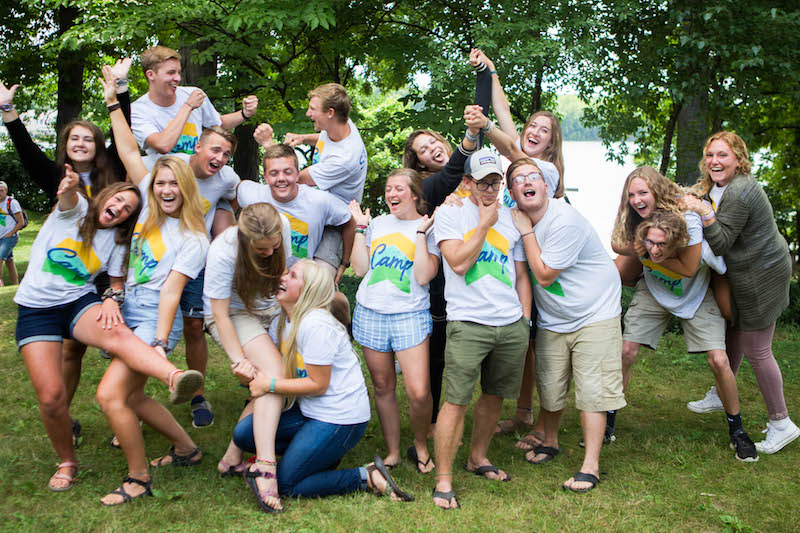 The newest t-shirt arrivals hang at the front of the room. Everything from drawstring bags to stuffed animals to jogger sweatpants and hats line the shelves. The freezer is stocked with chipwiches – a Miracle Camp classic. Assistant Cabin Leader Emma Zenz places the finishing touch on the merchandise before turning the sign to "OPEN" as kids gather at the door. She runs the Trading Post, our camp store, which is an especially popular place during Summer Camp.
Emma can't contain her excitement as she beams: "I LOVE my job." She's one of our 18 Assistant Cabin Leaders for the summer and is from Northwest Ohio. Emma's involvement with Miracle Camp began over ten years ago, ever since she was old enough to attend: first as a camper, then a Camp Aide; simultaneously, her family has been a part of Family Camp for eight years. Her roots at Miracle Camp shaped her love for ministry, which she wants to pursue vocationally. When Summer Camp ends, she will begin her Freshman year at Moody Bible Institute studying Youth Ministry. Therefore, this summer job aligned perfectly with her hopes for the future.
The essence of being an Assistant Cabin Leader is to serve alongside the Cabin Leader so that they can lead the campers well. This means helping facilitate conversations, allowing the Cabin Leader to have one-on-one time with each camper, leading devotions on the Cabin Leader's night off, and much more. Intentionality is huge regarding interacting with the campers because they are only with the cabins at specific times, such as meals and certain activities.
Each Assistant Cabin Leader has a specific job in addition to helping lead. Some are assigned roles in areas such as Hospitality, Outdoor Adventure, Lifeguarding, Health Office, and Shake Up Kalamazoo. In Emma's job at the Trading Post, she oversees inventory, preorders, stocking, and opens during free time for campers to visit. "Specifically in my Trading Post job, I get to connect with a lot of campers," Emma says. "I like to make it a safe and inviting place. Campers can come in knowing their company is wanted if they don't have friends to hang out with."
While Cabin Leaders see a more obvious side of spiritual growth in campers, Emma offers a unique perspective of Assistant Cabin Leaders. "We get to see God cultivate conversations not only in devos, but even in free time." She goes on to describe that even though something may not be seen as "spiritual," God is still present. "I've seen God unite cabins through games and dance parties," she explains. "He can initiate conversations over ice cream; you don't have to only be in chapel or small groups to talk about Him."
The Assistant Cabin Leader role balances out the Cabin Leader role as each position focuses on different aspects, yet both put Christ at the center. Assistant Cabin Leaders are able to step in and bring a new energy or support their Cabin Leaders in the most helpful way, even through simple details. Emma notes that even the details are important when it comes to the bigger picture of the gospel. She loves getting excited about "the little things that help campers get excited. When we make the gospel something we get excited about as well, it's contagious."
To find out more about becoming a future Assistant Cabin Leader, click the button below!