Have you ever wanted to crash a wedding? Be real with yourselves. If you're being honest, we are sure the answer is "yes!"  WELL, we don't want you to do that. However, here's a super exclusive, behind the scenes look at the Bradford wedding. You'll get all the juicy details, see amazing photos from their special day, and hear about true life-change that took place. Here's a sneak peek. Keep reading for more!
Hannah and Jordan met at Miracle Camp and Retreat Center. They were on summer staff together and hit it off. They also happened to attend Taylor University and Indiana Wesleyan University, which are two schools conveniently located twenty minutes apart. Their relationship was able to blossom and it became evident that the Lord had drawn them together. Jordan proposed to Hannah at camp and the two decided to share their vows there as well. It made the most sense to them to share their special day at a place that had shaped them, both spiritually and in their relationship.
During the evening of the rehearsal dinner, Hannah's friend frantically told Hannah to come to her Papa. Her grandfather, Craig Anderson, had a heart attack and was found laying on the ground, unresponsive. It was Linda Johnston, Miracle Camp's office manager and former nurse, who immediately performed CPR while the staff hooked up the on-site AED. By the time the AED was set, the first responders arrived to administer the shock. It was the quick response and life-saving equipment that ultimately saved her grandfather's life that day. What could have turned into a heartbreaking weekend, turned into a weekend of celebrating life and loved ones.
Craig was able to attend the wedding electronically. Though he was chomping at the bit to leave the hospital, he listened to his doctors and was able to view the wedding through one of Miracle Camp's iPad devices. The family was even able to capture a few photos of this, as well as Hannah talking to him "first" in the receiving line immediately following the wedding.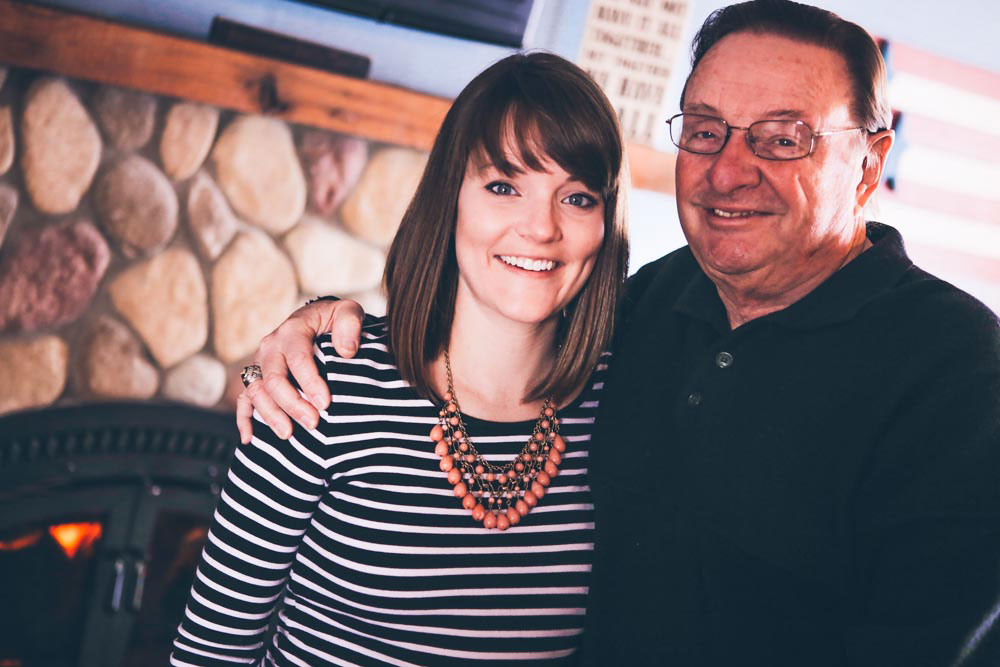 In Craig's words, "it could have been a real sad experience, but it was because of the staff that got to me quick and that day, He was looking over me. It was a miracle at Miracle Camp." Hannah told us that because of that incident, every staff member, including summer staff, is trained in CPR. Since then, the staff at camp has made safety one of it's top priorities. Not only do we want to be a place of spiritual life-change; we want to be a place where the quality of life is extended because we provide safe experiences.
We are so thankful for this story because it proves God's faithfulness, yet again. We love that camp is not only part of their spiritual life-change, but also, the physical life-change that happened when Craig was in an emergency situation. It was an absolute blast to hang out with their family as we filmed the interview. It's evident that Craig is a vital part of the family. His humor, wisdom, and kisses on Hannah's cheek prove to be the heartbeat of this lively bunch.
Jordan and Hannah have since moved to China. Together, they work with the Wuhan Yangtze International School. You also may have noticed that Hannah was pregnant in her interview. Since the visit with her family, Baby Bradford has been born! Jordan and Hannah are happy parents to Titus Dale. Hannah is living the stay-at-home mom life and the couple is thoroughly enjoying having different family members out to China to visit.
Isn't he adorable? We think so too.
The bottom line is this – among other things, Keeping Faith is about safety. How will people experience life-change if they feel unsafe? It's our ambition to increase safety measures whenever and wherever we can. This is why we're building a tunnel under 80th Ave. so campers have safe access to both sides of camp. Craig's story is proof that with the right safety measures implemented, lives can be not only influenced, but saved.