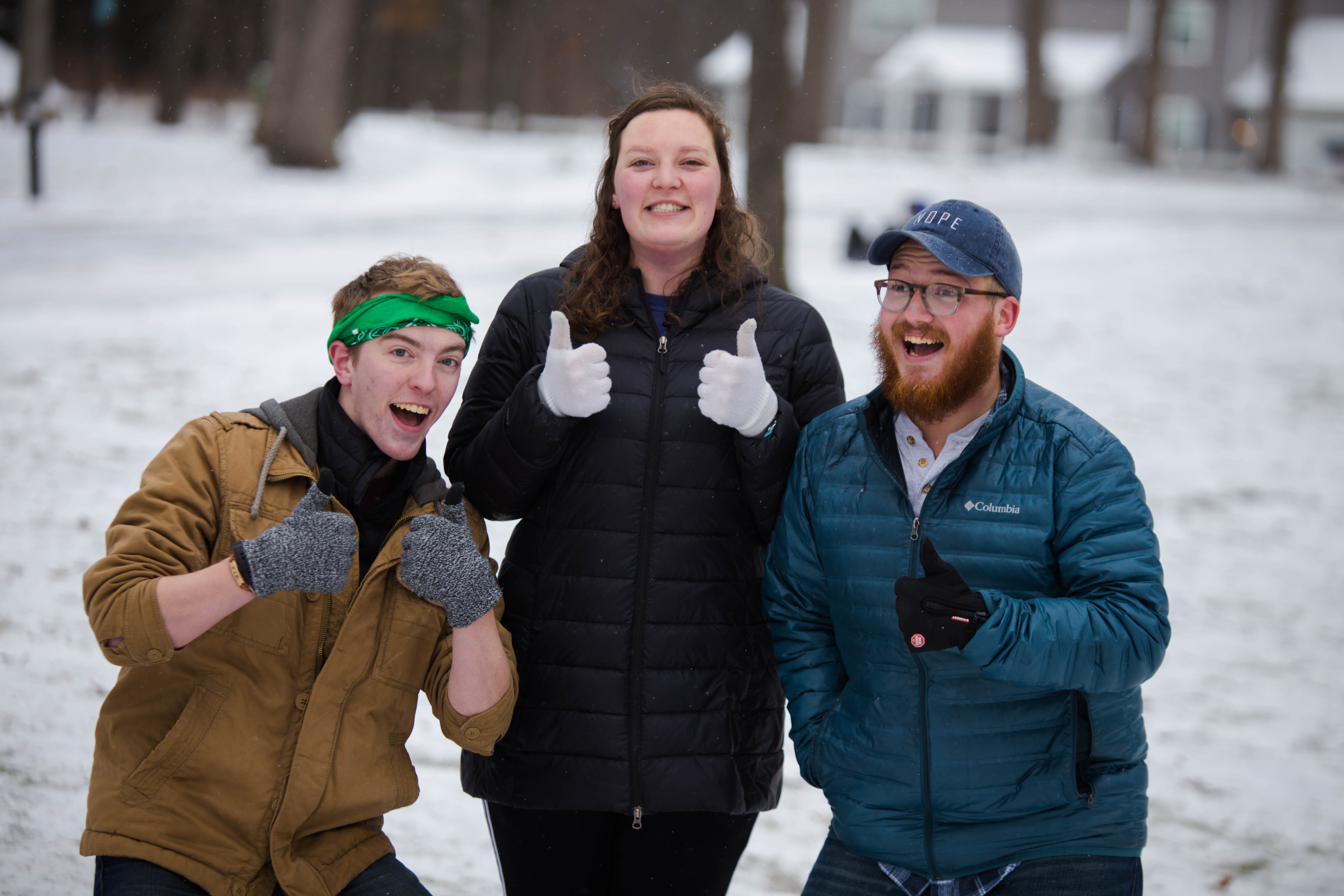 Snow tubing. Worship. Coffee. Gold Rush in the snow. And dodgeball. Lots of it.
The end of the semester and holidays are approaching, which also means it's almost time for Ice Camps! For ten weekends beginning in January, youth groups come to these winter retreats to bond over great fun, worship, and biblical teaching. These weekends are an exciting way to help students grow closer to God and each other as they have fun and experience life-changing chapel sessions and activities.
Our returning summer staff members help make Ice Camps possible. Not only do they serve seasonally in the summers, but they view their roles as more than jobs by coming back repeatedly. They choose to serve completely voluntarily as they give up their time and gas money to spend weekends here during the winter season. The relationships they formed over summer camps with each other and the other staff are a large part of their desire to return, as well as their commitment to the ministry of Miracle Camp. Our staff, as well as the groups who come to Ice Camp, are immensely blessed by their presence.
These returners get to reconnect with their summer staff coworkers while making hot chocolate and running snow tubing in the woods. Other ways they serve are by crafting hot drinks in the coffee shop to warm up from the cold, constructing unique creations over conversation in the craft shack, and facilitating basketball, dodgeball, and volleyball in the gym. Their friendly faces provide a welcoming presence at the front desk and in the Trading Post. Not only do they get to laugh with the groups as they lead games and activities, but they have the opportunity to participate in the work God is doing in each student's life.
While our summer camps focus on each camper's personal relationship with Jesus, Ice Camps are a time for students to be a part of group discipleship. Our staff plays a key role in letting youth leaders relax, have fun with students, and grow in Christ together. We have opportunities for every returning summer staff member, whether it is indoors, outdoors, behind-the-scenes, or on the stage.
Please check your schedule with the weekend dates listed and stay tuned to your inbox!
JH/SH 1: Dec. 30 – Jan. 1
JH 1: Jan. 4 – 6
SH 1: Jan. 11 – 13
JH/SH 2: Jan. 18 – 20
SH 2: Jan. 25 – 27
JH 2: Feb. 1 – 3
SH 3: Feb. 8 – 10
JH/SH 3: Feb. 15 – 17
MS/JH 1: Feb. 22 – 24
JH/SH 4: Mar. 1 – 3
For more information about Ice Camp, click the button below!