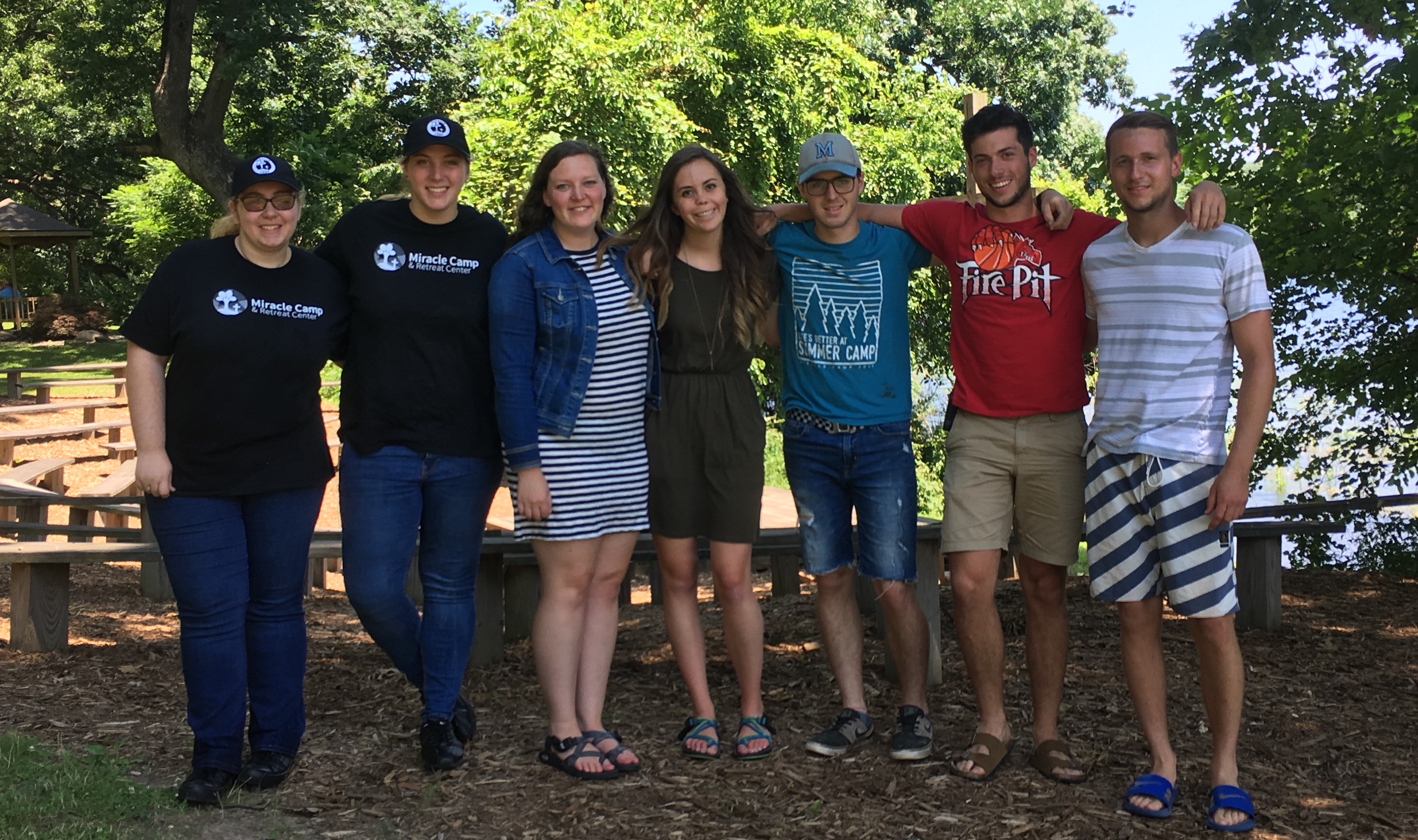 We are excited to introduce you to our seven current interns in the Miracle Camp GAP Year Ministry! This program is a great way for exiting high school and college students to gain practical experience and discover their purpose. It provides interns with hands-on opportunities to grow in their vocational skills, knowledge, and the calling Christ has placed on their lives, whether it leads to a career in Camping ministry or simply the next place God is directing. Each of them has a unique story of how God led them to Miracle Camp and what they hope to accomplish in their time here.
Katie Rice
Katie is from Nampa, ID, and is one of our Culinary Arts interns. Her dad used to be the youth pastor at Lawton Church for eight years before they moved to Idaho. She heard about the internship and decided to come because of her familiarity with Miracle Camp. Over the next year, she hopes to learn more about cooking and different techniques in the kitchen, and she is excited for building strong friendships while she's here.
Kaity Renzema
Kaity is also a Culinary Arts intern and the most local of the bunch, coming from Vicksburg, MI. She found out about Miracle Camp from a friend during a time when she was unsure about her next steps in life. After praying about this opportunity, she believes God very clearly led her here. Through this new experience over the next year, she hopes to grow both spiritually and in knowledge of culinary arts.
Margaret Gruendyke
Margaret is from Upland, IN, and very familiar with Miracle Camp as she grew up as a camper and camp aide. Camp has a large place in her heart and she wants to give back in the way that it has given so much to her, crediting it for making her who she is today. Margaret graduated from Taylor University in 2017 with a degree in Christian Ministries and Biblical Studies. She is one of the Guest Services interns, and in her time over the next year she hopes to learn more about the behind-the-scenes of camp, gain more business experience, and discover how to serve guests by giving them the best possible experience.
Micayla Greathouse
Micayla, originally from Hays, KS, is the other Guest Services intern. She felt God leading her to Michigan and has always been interested in Camping ministry. When she discovered Miracle Camp's GAP Year ministry online, she knew He provided this opportunity. Micayla has her bachelor's in Christian Ministry from Southwest Baptist University and recently completed her master's online through Liberty University in Professional Writing. She is excited to discover more about Camping ministry while learning how to better serve people, further her writing skills, and grow in community with others and relationship with Jesus.
Caleb Kroeker
Caleb, from Bellefonte, PA, is no stranger to Miracle Camp. He started coming to Family Camp at age 10 and has since come nearly every year. Caleb graduated from Penn State in May, and he is here for the summer as a Shake Up Kalamazoo intern. During this season, he is excited to help serve the people of the Kalamazoo area. Additionally, he looks forward to growing personally in his faith and knows that this is a great place for that.
Michael Boyd
Coming from Illinois, Michael began the GAP Year Ministry a year ago in Guest Services. He has been on Summer Staff since 2014, and the opportunity for the internship arose after last summer. Since then, he has switched over to the Health Officer internship. He believed God called him to the program, while also knowing if he didn't pursue this possibility, he would regret it. Michael will finish his year this August and then move to Chicago, where he hopes to adjust well to city life. He is excited to stay open and see what God has in store for the next season.
Wyatt Gulick
Wyatt, our Maintenance intern from Montpelier, OH, is well acquainted with Miracle Camp. He began his time here as a camper in the third grade and has been coming ever since.  Wyatt was then on Summer Staff for two years prior to becoming an intern. He began the GAP Year Ministry shortly after, and has already spent a year with Miracle Camp as an intern. Wyatt will be completing another year in the program, and we are excited to have him here a second year.
The three main purposes of the Ministry are: 1) Discovering gifts; 2) Building vocational skills; and 3) Exploring calling and life plan. If you would like to find out more about our intern program, click the button below!