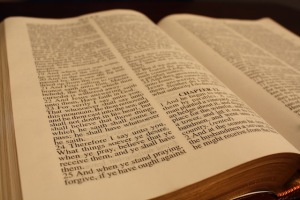 When you leave a retreat or summer camp, it's pretty common to have what we call a "camp high".  What we're talking about is this feeling of being really close to God.  And if you think about it, it makes sense.  You have been worshipping, reading the Bible, listening to good teaching, talking about your faith, and maybe even sharing your faith with a friend.  But often when we get home, we stop doing those things.
My challenge to you (those of you who just have attended Ice Camp) is to continue doing those things.  Keep going to church and listening to preaching.  Keep reading your Bible and spending time in prayer.  Keep serving and talking about your faith with your friends.  These things will help keep you connected to God beyond the retreat you attended in Michigan this winter.
I've attached a copy of a Bible reading plan that we recommend.  Even if you don't read it as fast as it says, just spend a little time in God's word every day.  But don't keep it there…put it into practice.  Read AND follow what God's word says.
So about that retreat or summer camp high…it might still go away, but you'll be living an exciting life to the full following God!