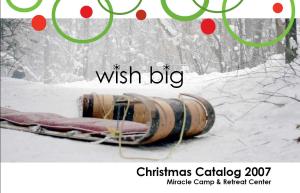 Miracle Camp and Retreat Center is raising money to help with several special projects for next year.  We have posted these projects in a Christmas Catalog that should be coming to your house if you are on our mailing list.
If you did not receive a catalog and would like to please email us at info@miraclecamp.com to be put on the mailing list.
This year's projects include a new sound system for the chapel, Bankson Lodge redecorations, a blob tower and waterslide for the waterfront, and new playground equipment.