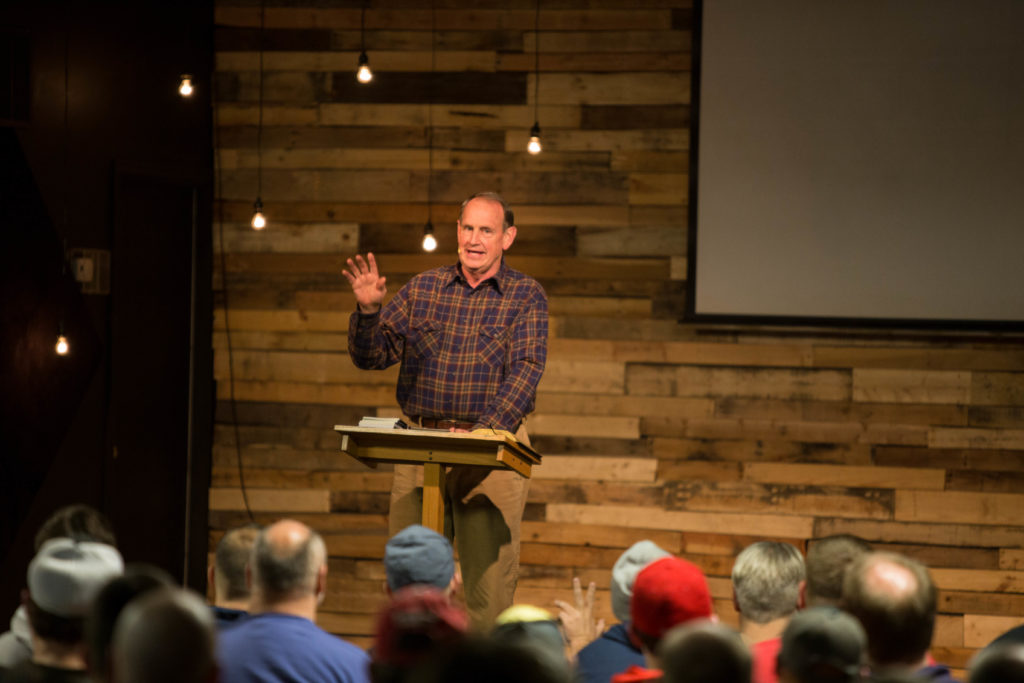 Our first Man Camp will be here in just two weeks!! We are looking forward to four incredible weekends, with hundreds of men, and seeing how God works in their lives. Here are the topics our speakers for the year will be teaching on:
Man Camp 1 – Dan Busse
Dan will be focusing on raising the bar on our faith, expectations, and outcome in life. He will be asking the question, "We are living, but have we found life?" In Dan's first talk, on Friday night, the topic will be "What Matters Most?". He will be diving into Luke 6 to look at three key questions to help us discover God's plan. Saturday morning's topic, "Who Am I?", will look at our identity and what God has for us through passages in Ephesians. The third message, titled "Fear to Focus", will come from John 5 and will challenge us to shift our focus and think about how fear keeps us from embracing the life God has for us. Our final session, on Sunday morning, will be centered around Colossians 3 and 4 to look at legacy and the need for community.
Man Camp 2 – Rich Ratts
Rich Ratts will be focusing on the theme of Acting Like Men. The sessions for this weekend will be centered around a couple key verses: 1 Corinthians 16:13 ("Be watchful, stand firm in the faith, act like men, be strong."), Nehemiah 4:14 ("After I looked things over, I stood up and said to the nobles, the officials and the rest of the people, 'Don't be afraid of them. Remember the Lord, who is great and awesome, and fight for your brothers, your sons and your daughters, your wives and your homes.'"), and Luke 2:52 ("And Jesus grew in wisdom and stature, and in favor with God and men"). Each message will encourage guys to "act like men" according to the four domains mentioned in the life and growth of Jesus as recorded in the passage from Luke. Session one will focus on growing in wisdom (intellect), session two on growing in stature (physicality), session three on growing in favor with God (spirituality), and the final session on growing in favor with men (relationally).
Man Camp 3 – Tom Harmon
For our third Man Camp, Tom Harmon is back as our speaker! The chapel sessions will be centered around the book of Daniel. In the first session, Tom will talk about "Daniel's Moment in Time" by looking at the first couple verses of the first chapter. Saturday morning will focus on "The Making of a Man" through Daniel 1:3-9. That evening, we will dive into Daniel 2:44-45 to take a closer look at Daniel's message. In our final session, Tom's topic will be "The Making of a Prophet" based out of Daniel 6.
Man Camp 4 – Nate Hamblin
Nate's main theme for this weekend is Man Prayers: Exploring simple, gospel-centered prayers that invite Christ to form and shape His life in our everyday lives. Nate will kick off the weekend in Luke 1:26-38 by looking at what God desires to do IN & THROUGH us. The next morning's session will look at 1 Kings 3:1-15. In this message, Nate will talk about our desperate need for the wisdom of Christ to rule in our hearts. On Saturday night, Nate will look at Mark 9:14-29 and about how we are all equal in our need for Christ's grace to daily overcome our unbelief. The last session will be based on the passage from 2 Kings 6:8-23, centered on praying that the Lord will open our eyes that we may see.
If you would like more information on what goes on at Man Camp, more about the speakers, or have any questions, visit our website at www.miraclecamp.com/mancamp!